Creating A New Profile
After you successfully install the software, the first thing you must do is to create a new profile. Let's create a new profile now.
From the Start menu
Select Programs and then MXC Software iSafeguard, and finally iSafeguard Login.
Profile Not Found?
You will see a message box like the one shown below because this is the first time you run the software. You have not created your profile yet.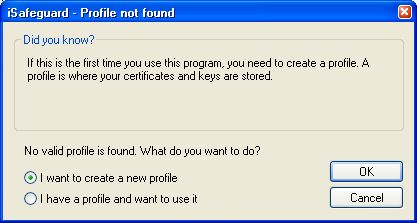 Select I want to create a new profile option; and then
Click the OK button.
Entering Login Name And Pass Phrase
Another dialog box is shown to ask you to choose a login name and a pass phrase.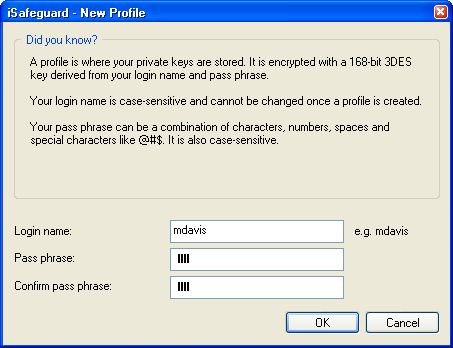 Choose a login name and a pass phrase
Click the OK button.
Next time you use the software you will be asked to enter the login name and the pass phrase that will be used to verify that you own the profile. In another word your profile can only be decrypted with the login name and the pass phrase.
By the way your login name don't have to be your full name. It could be your nickname or something else, like "mdavis".
For Your Information
The program then generates a new profile for you. The default path of your profile is shown in the follow dialog box.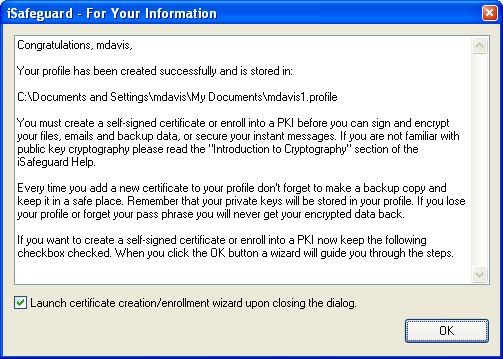 Click OK to dismiss the dialog
Your profile is pass phrase protected. The stronger the pass phrase the better. In addition don't forget to make a backup copy of your profile and keep it in a safe place. Remember if you lose your profile or forget your pass phrase you will never be able to recover your encrypted data.
For more options safeguarding your profile see FAQ: How can I secure my profile?.